November 21st, 2013 / No Comments » / by Bee
Have you ever seen a Rangoli? Rangoli is an Indian sandpainted design often seen in Diwali, the Indian festival of lights. Rangoli can be any size and can use a wide variety of materials. Most of the time I see it made with colored rice.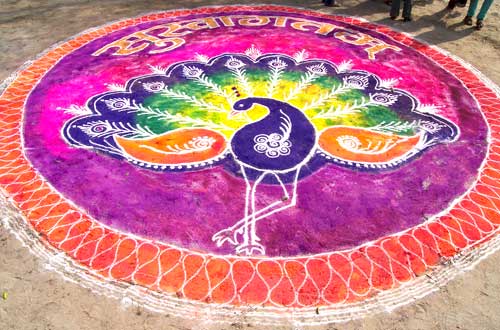 A few years ago I had the chance to see how Rangoli was made. It was our University's light festival and a bunch of students gathered together to create this beautiful artwork. It took a lot of preparation… and hours of intricate work to come up with beautiful rangoli designs. As soon as they were finished, the Rangolis were left on the floor just like and that. No warning sign were made to warn people of their existence. I thought that perhaps since they're so beautiful and big… people would've notice and would try to not to walk all over them.
I was wrong. Not a few minutes later a bunch of students walked all over them, destroying these beautiful artworks in matter minutes. As I watched this happening,I wonder if those students who made the rangolis should've put up a notice to make people aware of their artworks?.. and then I noticed some of the students did see the Rangolis… but they just didn't care!
A few lessons were learned that day :
The first lesson is, if you are on top… you tend to not see what's below you. Sometimes, people just stare up ahead and they forgot to see what's around them. Don't make this mistake. In life, you should be aware of your surroundings. Look around. Appreciate beauty and kindness… and if you've climbed to the top of the mountain, don't just spend too much time staring at the sky. The sky may be beautiful and blue .. but there's a vast beautiful world below you. Look down. You might see beauty. You might meet new friends. You might discover new things.
The second lesson is to know that awareness is important. If you are doing something, make people aware of what you're doing. Especially if it is something important. Don't just leave your work on the floor for people to walk all over it. Put up a sign. If you value something, make sure that you let people know that you value it. Like 'time' for example. You may hate waiting around for people. So let them know. If you don't, people wouldn't know that you value it so much and will unintentionally waste your time.
The third lesson, sometimes, you will meet people who just don't value things. These people could see beauty and not appreciate it. They will see injustice done and not do anything about it. Not because they can't. But because they just don't care. Avoid this people. They will bring you down. …. Also make sure you are not one of these people. Not caring, is the worst thing to be in this world.
Choose to be aware. If you are not aware of the world around you, it would be hard to be grateful.